LINE LOCATING
Our experienced technicians utilize ground-penetrating radar technology to precisely locate and flag underground pipeline, utility line, and oil and gas well pad infrastructure.
It is our goal to prevent underground utility damage.
---
HYDROTESTING
Hydrotesting of a pipeline is carried out mainly to check the integrity of the pipeline to ensure that the pipeline can be operated at its maximum allowable operating pressure (MAOP) and is free from any major defects which could affect the pipeline during operation. It is the most conventional and economical method to test pipelines before or during operations.
Anaya oilfield services not only specializes in pipeline construction, but in pipeline integrity. With hydrotesting as one of our specialized services we can oversee the integrity of your pipelines, making sure they're free of corrosion and see that they maintain DOT compliance.
---
PIPELINE PIGGING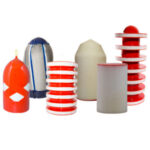 Another service we offer is Pipeline Pigging. Similar to cleaning your plumbing line, utility pigs are used to clean the pipeline of debris or seal the line. Debris can accumulate during construction and throughout the lifetime of the pipeline, utility pigs can be used to scrape out this debris. Additionally, sealing pigs are used to remove liquids from the pipeline, as well as serve as an interface between two different products within a pipeline. Whether you're hydrotesting, dewatering, removing debris or condensate Anaya Welding & Lease Service provides these services.